CHAMPIONSHIP PROGRAM
DAY 0: July 12, 2023
         Arrival day
         Accreditation day
         Training 
DAY 1: July 13, 2023
         Training
         General Technical Meeting
         Opening Ceremony 
DAY 2 - DAY 7: July 14-19, 2023
         Competition days
         Award Ceremonies & Closing Ceremony (July 19, 2023)
July 20, 2023 : Departures
COMPETITION & TRAINING VENUES
Kemény Dénes Sports Pool
H-3515 Miskolc, Egyetem út 2.
Kemény Dénes Sports Pool opened its doors to athletes and the general public in 2009. In addition to the 50 x 25 m, 10-lane waveless competition pool, there is also a 25 m x 11 m x 0.8 m teaching pool, sauna, fitness, and solarium in the sports complex close to the University Campus.
The facility, named after the three-time Olympic water polo champion coach, also hosts swimming and water polo sports training, competitions and matches.
Since its opening, the swimming pool has been the home of the Twin Cities Cup international swimming competition. International adult men's water polo tournament was held several times in the competition pool, where the Olympic champion Hungarian national team also jumped into the water. The Pannergy-Miskolc men's water polo team competing in the hungarian national first league, also plays its home matches here.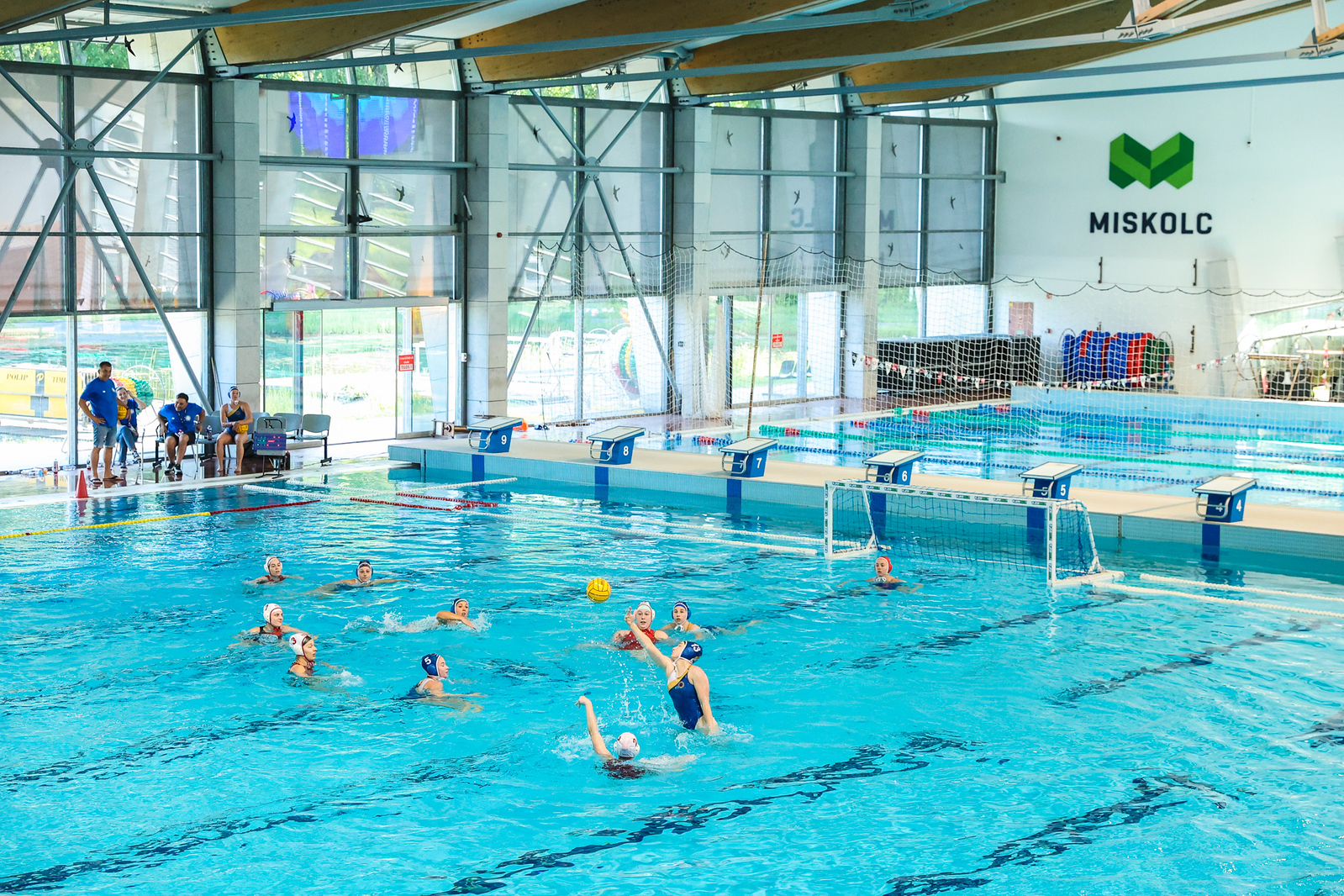 Lido of Miskolctapolca
H-3519 Miskolc, Aradi sétány 1.
Miskolctapolca's first open bath was built in 1923, which has been continuously modernized and expanded; it was last completely renovated in 2015. The special cones of the entrance, as well as the huge sycamore trees of the complex, are still reminiscent of the old building, which was renovated according to Green City principles. There is a 50-meter swimming pool and an adventure pool in the ancient park dotted with walkways. The renewed and expanded Lido of Miskolctapolca offers its guests a unique experience with its surrounding boating lake and the only natural cave bath on our continent. The Lido has been used with great pleasure by the representatives of water polo sport for years. In addition to several national team matches and international youth tournaments, the hungarian university water polo championship has also been held there several times.